April 6, 2021
THIS WEEKEND: Hack Fest on Mental Health
Image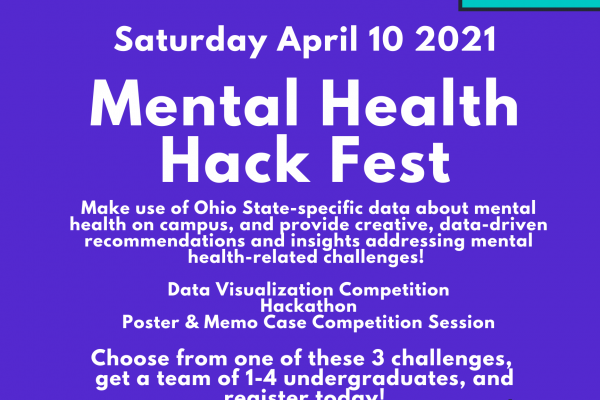 Description
Attention students! This weekend, April 9th-11th, the Political Science department is hosting a virtual Hack Fest on Mental Health in memory of Assistant Professor Dr. Brice Acree. This Hack Fest has raised and will donate nearly $10,000 to mental health organizations and resources, and provides students the opportunity to compete in one of 3 challenges Saturday April 10th:
8 hour-long data visualization competition 
12-hour long Hackathon 
8 hour-long case competition poster session 
We highly encourage all students, but especially our Political Science students, to sign up for the Hack Fest--any track, but especially the poster case competition! Registration is free (thanks to generous donation from Engineers' Council) and open all week--learn more here and register today!
The Hack Fest makes use of Ohio State-specific mental health data and is an excellent networking opportunity, as well as an important memorial of Dr. Acree's legacy at OSU, and kicks off with a mental health resource navigation workshop Friday April 9th (via Zoom) with OSU's Counseling and Consultation Service. Contact Kaitlin McClamrock with any questions. 
---