What Are Our Students Up To?
Our students are actively involved in and around campus, in the city of Columbus, in Ohio, across the nation, and around the world.
Ose Arheghan, Third Year Political Science Student, Awarded Truman Scholarship
Ohio State University student Oseremhen "Ose" Arheghan has been awarded a 2021 Harry S. Truman Scholarship.
Arheghan, a third-year political science and Chinese major, is one of 62 students selected for this prestigious honor from 845 candidates who were nominated by 328 colleges and universities – a record number of applicants. Scholars are recommended by 17 independent selection panels based on the finalists' academic success and leadership accomplishments, as well as their potential as future public service leaders.
"The Truman Scholarship is one of the most prestigious awards that you can win as a third-year student, particularly as a third-year student interested in public service," Arheghan said. "I feel really affirmed about my career path. It feels really good to see folks who are established in their careers say, 'OK, I see what you're doing, I see the path that you're on and I want to support you on this path because I think you're going to go far.'"
Established by Congress in 1975 as a living memorial to President Harry S. Truman, the Truman Scholarship is intended to support and encourage the next generation of public service leaders. Truman Scholars demonstrate outstanding leadership potential, a commitment to a career in government or the nonprofit sector, and academic excellence. Each Truman Scholar receives funding for graduate studies, leadership training, and career counseling, as well as internship and fellowship opportunities within the federal government.
Ohio State leaders recently surprised Arheghan with the news of the scholarship.
"Ose truly embodies the Truman Foundation's core mission to foster the next generation of leaders – especially those from diverse backgrounds – and help pave their way to a successful public service career," said President Kristina M. Johnson. "We have seen firsthand Ose's deep and abiding commitment to leadership and service at Ohio State, and I look forward to seeing all that the future has in store for them. Congratulations, Ose, on this wonderful accomplishment."
Executive Vice President and Provost Bruce A. McPheron echoed the president's sentiments, adding:
"Ose, you've already proven yourself to be a leader on our campus and beyond, and we're so proud that the Truman Foundation is going to be supporting your continued work as you prepare for a career in public service. You represent the best of Ohio State, and I'm so proud that you are part of our Buckeye community."
A Morrill Scholar from Shaker Heights, Ohio, Arheghan has been committed to leadership, diversity and inclusion since choosing Ohio State. They have led as the chair and co-founder of the Undergraduate Black Caucus and a cohort leader for the Queer and Trans People of Color Cohort at Ohio State.
"Metaphorically, I'm going to give you a hug on behalf of the Office of Diversity and Inclusion and its world-class Morrill Scholarship program," said Vice Provost for Diversity and Inclusion and Chief Diversity Officer James L. Moore III. "I can't think of anyone better to receive this award."
Arheghan credits their mom, Terri, as an inspiration and a supporter for advocacy and commitment to service.
"When I grew up, my mom always told me that as an individual who is carrying many minority identities, it's really important that I'm able to verbalize what I need and to be able to advocate for that. And that might not always be easy, but it is always necessary," Arheghan said.
Arheghan said they have worked to help students break down barriers to build a more inclusive and supportive campus – an effort they hope to pursue following graduation.
Internships with the U.S Department of State and Canadian Parliament have helped prepare Arheghan for their planned career in the U.S. Foreign Service.
"I'm at this place where I'm trying to figure out how do I best take the tools that I've been able to sharpen as a youth advocate and turn those into a career and turn that into what I'm going to do with the rest of my life," they said. "I settled on diplomacy because it's this idea that you're advocating for these tenets that you believe in: democracy, human rights, peace."
Two Undergraduate Political Science Students Awarded FLAS Fellowships
Political Science students Daria Novikov (Advanced Russian), Academic Year 2020-2021 and Daniel Zevallos, Political Science (Intermediate Portuguese), Summer 2020 were awarded FLAS Fellowships in 2020. The East Asian Studies Center, Center for Latin American Studies and Center for Slavic and East European Studies at Ohio State awarded more than $1.5 million in student support in 2020 in the form of 64 Foreign Language and Area Studies (FLAS) Fellowship grants to Ohio State students spanning 16 graduate programs and 13 undergraduate majors. For Summer 2020, more than $122,000 in awards supported 15 graduate and professional students and three undergraduate students in their pursuit of intensive language study. For Academic Year 2020-2021, more than $1,456,000 in awards will support 32 graduate and professional students and 14 undergraduate students pursuing language and area studies across many disciplines. Funding for FLAS Fellowships comes from the U.S. Department of Education under Title VI of the Higher Education Act and is subsidized by generous matching funding from The Ohio State University Graduate School.
The 2020-2021 FLAS fellowships support the development of area studies knowledge and language fluency in 12 languages, with more than 67 percent of fellows pursuing language study at the advanced level. The East Asian Studies Center awarded funding to six graduate students in Summer 2020 and 15 graduate and professional students in Academic Year 2020-2021 to support advanced studies of Chinese, Japanese and Korean. The Center for Latin American Studies awarded funding to eight graduate students and two undergraduate students in Summer 2020 and six graduate and professional students and eight undergraduate students in Academic Year 2020-2021 to support the study of Portuguese, Quechua and Wao Tededo. The Center for Slavic and East European Studies awarded funding to one graduate student and one undergraduate student in Summer 2020 and 11 graduate students and six undergraduate students in Academic Year 2020-2021 to support the study of Bosnian-Croatian-Serbian, Polish, Romanian, Russian, Ukrainian and Uzbek.
Summer FLAS Fellows complete the equivalent of a full year of language study in an intensive program (usually 6-10 weeks long). The fellowship covers up to $5,000 of the language program's tuition, provides a $2,500 stipend, and in some instances, up to $1,000 towards international travel. 
 
Undergraduate Political Science Student Henry Wu Named 2020 Rhodes Scholar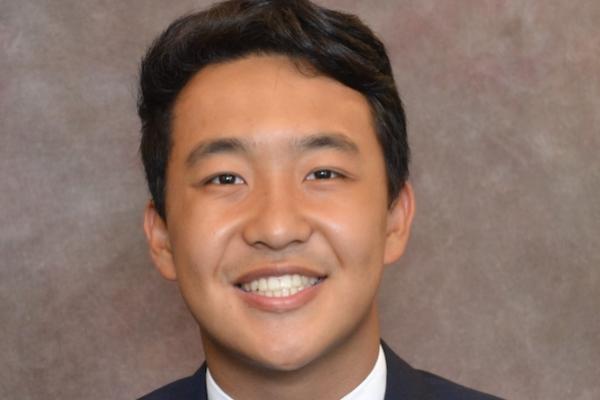 The Department of Political Science is proud to announce that the Ohio State University senior Henry Wu has been named a 2020 Rhodes Scholar. The Rhodes Scholarship was founded in 1902, and supports graduate study at the University of Oxford in the United Kingdom. Thirty-two scholarships are awarded annually to outstanding seniors and recent graduates across the United States. The Rhodes Trust selected Henry for his commitment to fighting human trafficking and researching migration patterns and policies impacting the involuntary movement of peoples.
As a university honors student, Eminence Fellow, and recipient of the Jeanne Bonnet McCoy Preeminent Scholarship, Wu is pursuing a double major in philosophy and political science. Wu has achieved a stellar academic record as he has studied the legal and social contexts of migration and philosophical notions of freedom and slavery. 
During his first year at Ohio State, Wu heard from nonprofit professionals about the issue of human trafficking, a modern-day form of slavery happening just miles away from the Ohio State campus. "I am extremely fortunate that I was not forcibly separated from my parents when we immigrated to the United States," says Wu, whose family emigrated from China. "I now understand how restrictive immigration policies can put migrants at greater risk of exploitation and trafficking in the United States," Wu continues, "[and] I will fight for a world where the dignity of the most vulnerable is protected just as my own."
As part of the Eminence Fellows program, Wu co-founded Enlighten, which mobilizes students to confront human trafficking and create a culture of compassion through on-campus awareness and direct community engagement. Wu has also established connections with anti-trafficking student leaders at Boston College, Penn State University, SUNY Albany, and Emory University. Recently, Wu created a partnership with the Ohio State Moritz College of Law to provide mentorship events for minors who have been trafficked, including a trauma-informed self-defense course at a local Brazilian Jiu-Jitsu academy to help them gain self-confidence. While Enlighten grew from his Eminence cohort's service project, Wu has pursued high-level internships at various NGOs such as Free the Slaves and The Human Trafficking Legal Center. Additionally, Wu volunteers at the Legal Aid Society of Columbus, where he helps survivors of human trafficking overcome criminal record-based barriers.
As a Rhodes Scholar, Wu plans to pursue Master of Science (MSc) degrees in migration studies and evidence-based social intervention and policy evaluation. This multidisciplinary course of study will enable Wu to examine the ways in which policy choices, including immigration policies, can limit or expand freedom. After earning these degrees at Oxford, Wu will return to the United States to attend law school so that he may develop the practical skills necessary for a career in international law and policy. As a Rhodes Scholar, Wu will utilize his experiences studying in the U.K. to justify multilateral responses to human trafficking.
Wu is Ohio State's eighth Rhodes Scholar; the university's last recipient was Laila Ujayli just this previous year in 2019. This is the first time in Ohio State's history in which students have been named Rhodes Scholars in consecutive years. Ohio State University students interested in pursuing the Rhodes Scholarship or other national fellowship opportunities should contact the Undergraduate Fellowship Office located within the University Honors & Scholars Center, fellowships.osu.edu. More information on the Rhodes Scholarship can be found through the Rhodes Trust, rhodesscholar.org.
 
Undergraduate Students Sydney Green And Alexis Oberdorf Chosen For Sesquicentennial Student Scholar Leadership Program
Sydney Green, Political Science major           Alexis Oberdorf. World Politics Major
A celebration of The Ohio State University that is 150 years in the making includes a new scholarship program designed to develop current students into future leaders.
Ohio State awarded 150 sesquicentennial scholarships to students across the university for the 2019-20 academic year and of those, and 2 students come from the Department of Political Science. Sydney Green majoring in Political Science and Alexis Oberdorf majoring in World Politics have both been honored with this award. The Sesquicentennial Student Scholar Leadership Program is one part of the university's sesquicentennial celebration and demonstrates a commitment to increasing access and affordability while recognizing students' academic and non-academic accomplishments and diverse interests.
"The Ohio State University has transformed lives for nearly a century and a half. I look forward to celebrating this historic occasion with members of our new scholarship program and the rest of the Buckeye community," said President Michael V. Drake. "These student leaders will help lay the foundation for the next 150 years of excellence and impact."
Scholars receive $2,500 for the first year of the program, and the scholarships are renewable for up to six additional semesters or completion of their current degree program, whichever comes first. Scholarship recipients represent all campuses, colleges and undergraduate, graduate and professional student populations. Beyond financial support, sesquicentennial scholars will receive leadership training and professional development support, and serve as sesquicentennial ambassadors at programs and events. The scholars program, and the learning opportunities that go with it, support the charge and motto of Ohio State.
To learn more about The Ohio State University Sesquicentennial, read Sydney and Alexis' bios, see the full list of student scholars, click here.