September 28, 2022
Professor Emeritus Liddle selected for Indonesia's Achmad Bakrie Award
Image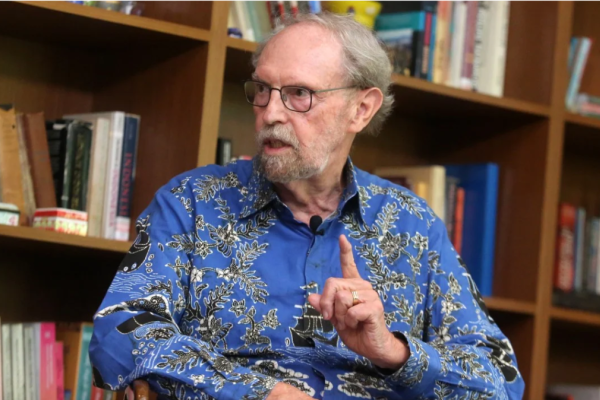 Description
Story and image pulled from the Mershon Center's Mershon Memo Newsletter
In a ceremony in Jakarta in August, Mershon Center fellow and Professor Emeritus of Political Science R. William Liddle was recognized for his six decades of intellectual dedication to Indonesia with the prestigious Achmad Bakrie Award for Merit, in the new category of "International Scientist Devoted to Indonesia."

Liddle has been involved in Indonesia since 1962, when he conducted dissertation research in Pematang Siantar. Becoming fluent in Indonesian, he has returned to the country continually as USAID consultant, visiting professor, and invited media commentator. In the other direction, from his 1965 appointment to his 2011 retirement at Ohio State, a stream of young Indonesian political scientists has come to study with him. Inevitably drawn into the vigorous debates of the world's largest Islamic democracy, Liddle has made a point of publishing in the Indonesian language and engaging with critics as he has continued to study political leadership, public opinion, and voting behavior. In 2008, his Indonesian students and colleagues presented him with a Festschrift : Dari Columbus Untuk Indonesia: 70 Tahun Prof Bill Liddle Dari Murid dan Sahabat [From Columbus for Indonesia: 70 years of Prof Bill Liddle from Students and Friends] (Gramedia, Freedom Institute and Nalar Publishers).]

Instituted in 2003, the Achmad Bakrie Awards are conferred by the Achmad Bakrie Foundation and Freedom Institute of Jakarta. The recipients are figures and institutions whose contributions are judged to have brought exceptional benefit to Indonesian communities. Four awards are normally conferred, for literature, social thought, science, and medicine, but for this first post-pandemic celebration, coinciding with the 80th anniversary of the Bakrie Business Group, an extraordinary category was created: "International Scientist Devoted to Indonesia."

Liddle and his wife Wanda flew to Jakarta for the August 14th ceremony, an elaborate celebration with music and dance performances between the conferral of the awards. Liddle was the final recipient of the night, cited "for his six decades of intellectual dedication in studying various political developments and the institutionalization of democracy, along with the work to build a new generation of political scientists in Indonesia." In his speech of thanks, Liddle expressed his pride and gratitude as the first foreigner to be recognized in the Bakrie awards.

This was not, to be sure, his first award. For more on Liddle's career, contributions, and prior recognitions, see the Mershon Center's story from 2018, when Liddle was honored by the Ministry of Education and Culture for a lifetime of outstanding scholarship and mentorship to the Indonesian people.
In addition, Mohtar Mas'oed, a PhD alumnus, was also a winner for his writings on comparative democratic theory and Indonesia.  Two PhD alumni, Salim Said, for his research on the role of the Indonesian military, and Saiful Mujani, for his research on Indonesian voting behavior, are recipients of Achmad Bakrie Awards for Merit.
To access the awards ceremony: https://www.youtube.com/watch?v=gor1HeVe06k 
---