April 26, 2022
PhD student Franshelly M. Martínez-Ortiz selected as spring 2022 APSA Diversity Fellow
Image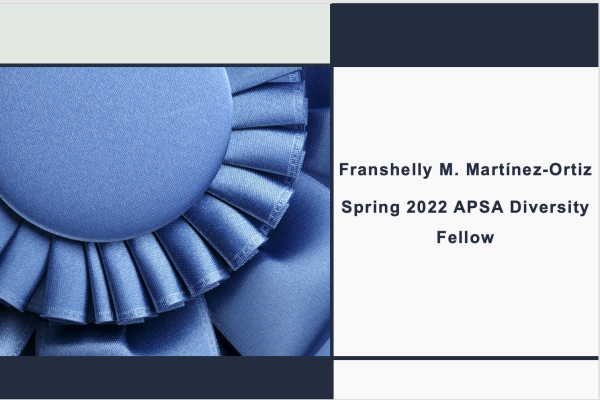 Description
First year PhD student Franshelly M. Martínez-Ortiz was recently awarded a spring 2022 American Political Science Association (APSA) Diversity Fellowship.  
According to the APSA website, "The APSA Diversity Fellowship Program (formerly known as the APSA Minority Fellowship Program or MFP) is a fellowship competition for individuals from underrepresented backgrounds applying to or in the early stages of doctoral programs in political science. Since its inception, the APSA DFP has designated more than 600 fellows and contributed to the successful completion of doctoral political science programs for over 100 individuals."
Franshelly M. Martínez-Ortiz is majoring in American Politics, Methods and Political Psychology. Martínez-Ortiz research focuses on how social media can influence political behavior. Martínez-Ortiz is the author of "Trump y Facebook: la efectividad de #CrookedHillary en el electorado en 2016", published for Revista Ingenios Vol. 6 Num. 2 in 2020. She is currently working on projects about Identity Politics and Social media advertisements.

Prior to joining OSU, Martínez-Ortiz obtained a bachelor's degree in Political Science, focused on Comparative Politics from University of Puerto Rico at Rio Piedras. After obtaining her PhD degree, Martínez-Ortiz aims to pursue a career in the academia and serve as a mentor for other first-generation latinxs scholars.
---