October 29, 2019
Inaugural Political Science Week Nov 4-7
Image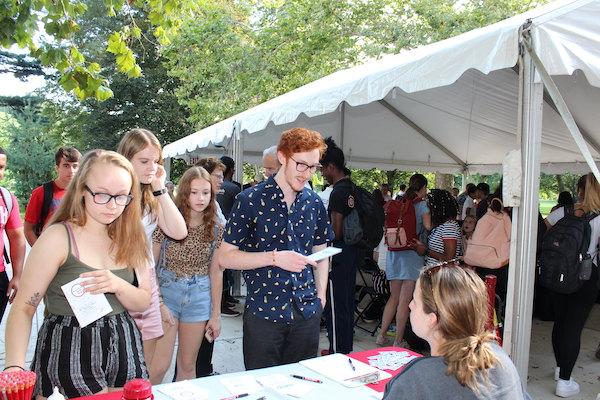 Description
The Department of Political Science will be hosting their inaugural Political Science Week from Nov 4th - Nov 7th. Events will be held throughout the week with the opportunity for students to interact with faculty, staff, alumni, and their peers. 
Monday November 4
10 AM • 2 PM -- Statehouse Tours
Tour the Ohio Statehouse building downtown with other political science students, and meet in the Department of Political Science to depart.
4-5:30 PM -- Department Open House, 2130 Derby Hall
Learn more about the Department of Political Science and their various student organizations by attending this open house.
---
Tuesday November 5 • Election Day!
11:30-2 PM -- Lightning Talks, 2130 Derby Hall
Graduate students and faculty will be presenting brief presentations about research that they are currently working on, with the opportunity for students to ask questions after.
2-3 PM -- OSU Votes, 2130 Derby Hall
OSU Votes will be tabling in the Department to provide students the opportunity to register to vote and to learn more about voting.
3-4 PM -- Matriots Presentation, 2130 Derby Hall
The Columbus-based nonpartisan political action committee that works to elect women to public office will be hosting a presentation about their work as well as how to get involved.
---
Wednesday November 6
2 PM -- Women in Political Science Roundtable, 2174 Derby Hall
WIPS will be hosting a roundtable discussion about their work to advocate for women in the department and the discipline of political science as a whole.
6 PM -- Trivia Night with CCWA, 80 Derby Hall
Teams can compete for prizes in a political-themed trivia night hosted by the Collegiate Council on World Affairs and several of our grad students and faculty members. Prizes include a top prize of $1000 for the winning four-member team, as well as t-shirts, mugs, and other department swag. Afterwards, participants are invited to attend CCWA's weekly meeting with a talk by political science Professor Alexander Thompson.
---
Thursday November 7
1 PM -- Major/Minor Info Session, 2130 Derby Hall
Students interested in pursuing a major or minor in the Department of Political Science are invited to attend this info session with the opportunity to speak with our advisors.
12 PM, 2130 Derby Hall • 2 PM, 150 Derby Hall -- Law School Panel
Students will have the opportunity to hear from current law school students about their experiences, with panel members ranging from 1L to 3L.
6 PM -- Life Beyond Degree: Political Science, 125 Derby Hall
Hosted by the Department of Political Science and the Center for Career and Professional Success, this presentation will include a workshop on networking practices followed by a breakout session to network and mingle with Ohio State alumni. More details and registration options are available on Handshake.
---
---