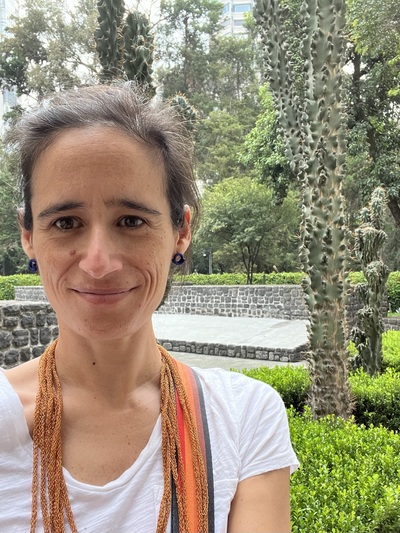 Inés Valdez
Associate Professor and Director of the Latina/o Studies Program
2072 Derby Hall
154 N Oval Mall
Columbus, OH
43210
I am a political theorist interested in the problem of racial, gender, and religious difference within political theory. Questions that animate my research include: How is difference constructed politically? What are its effects on subjects? How do subjects act politically in response to these constructions?
 
I address this core concern through three projects. The first project is a 2019 book (Transnational Cosmopolitanism: Kant, Du Bois, and Justice as a Political Craft) that proposes a transnational cosmopolitanism built upon the post-First World War writings and political practice of W. E. B. Du Bois and offers a critical reading of Kant's and neo-Kantian cosmopolitanism.
 
A second book manuscript in progress examines the imperial origins of popular sovereignty. Building upon a variety of 19th century and early 20th century intellectuals, I argue that the racial/imperial politics of labor and labor mobility centrally shaped the contemporary meaning of sovereignty and self-determination. Based on this historical genealogy, I engage critically with contemporary theorizations self-determination, global justice, and migration.
 
The third project consists of articles that theorize race in relation to secularism, migration and policing, in ways indebted to the anthropology of Islam, Latina/o Political Thought, and Black Studies, respectively. Conceptually, this work engages critically Philip Pettit's freedom as non-domination, Michel Foucault's discipline and biopolitics, Walter Benjamin's violence and the general strike, and Giorgio Agamben's state of exception.
 
My research has been or is currently supported by the Humboldt Stiftung, the Princeton University Center for Human Values, and the Max Weber Programme.
 
At Ohio State I hold courtesy appointments from Comparative Studies; Germanic Languages & Literature; History (Power and the State Constellation); Spanish and Portuguese; and Women's Gender, and Sexuality Studies. I am affiliated with the programs on International Studies, Latin American Studies, Middle Eastern Studies, and Latina/o Studies, which I direct.
Publications:
 
Book
2019. Transnational Cosmopolitanism. Kant, Du Bois, and Justice as a Political Craft (New York: Cambridge University Press). Go to press website. Read introduction.
Refereed Articles
2019. "Cosmopolitanism without National Consciousness is not Radical: Creolizing Gordon's Fanon through Du Bois," Social Identities [part of symposium on Jane Gordon's Creolizing Political Theory] (go to accepted manuscript).
2018. "It's not about Race: Good Wars, Bad Wars, and the Origins of Kant's Anti-Colonialism." In American Political Science Review
2017. "Missing in Action: Practice, Paralegality, and the Nature of Immigration Enforcement,"  Citizenship Studies 21(5): 547-569 [with Mat Coleman and Amna Akbar]
2016. "Punishment, Race, and the Organization of U.S. Immigration Exclusion," Political Research Quarterly 69(4):640-654
2016.  "Nondomination or Practices of Freedom? French Muslim Women, Foucault, and the Full Veil Ban," American Political Science Review 110(1): 18-30.
2013. " Reel Latinas? Race, Gender, and Asymmetric Recognition in Contemporary Film," Politics, Groups, and Identities, 1(2): 180-197.
2012. "Perpetual What? Injury, Sovereignty, and a Cosmopolitan View of Immigration," Political Studies, 60(1): 95-114.
2011. "Residues of Border Control." In Southern Spaces, April [with Susan Harbage Page, reprinted in 2016 in Global Mobilities. Refugees, Exiles, and Migrants in Museums and Archives, ed. Amy Levin (New York: Routledge)]
Refereed Book Chapters
2019. "Association, Reciprocity, and Emancipation. A Transnational Reading of the Politics of Global Justice," in Duncan Bell (ed.) Empire, Race, and Global Justice (Cambridge: Cambridge University Press) (go to pre-proof document)
2011. "From Workers to Enemies. National Security, State Building and America's War on Illegal Immigrants," (with Desmond King) in Narrating Peoplehood amidst Diversity. Historical and Theoretical Perspectives , ed. Michael Böss (Aarhus: Aarhus Academic Press), pp. 145-182.
Other Writings
2019. "Beyond the Dream and Promise Act: Why Democrats must turn the immigrant labor narrative upside down," a post at the LSE US Centre Blog.
2017. "Donald Trump says he's just enforcing immigration law. But it's not that simple," in The Monkey Cage (The Washington Post) [with Mat Coleman and Amna Akbar]
2017. "Donald Trump is expanding a system of immigration enforcement which already punishes immigrants and makes them vulnerable," a post at the LSE US Centre Blog.
2016. "From Global to Transnational: Reading Global Justice through W. E. B. Du Bois," a post at The Disorder of Things.
2015. "DACA, DAPA, and Beyond: Plus ça change?" In Newsletter of the APSA Migration & Citizenship Section 3(2): 35-38
Teaching:
PS 4465 Feminist Political Theory
Syllabus
PS 4455 / IS 3450 Human Rights
Syllabus
IS 4451 The Immigration Controversy through film
Syllabus
[pdf] - Some links on this page are to Adobe .pdf files requiring Adobe Reader to open. If you need them in a more accessible format please contact valdez.39@osu.edu