November 12, 2014
Department Welcomes Thomas Wood
Image
Image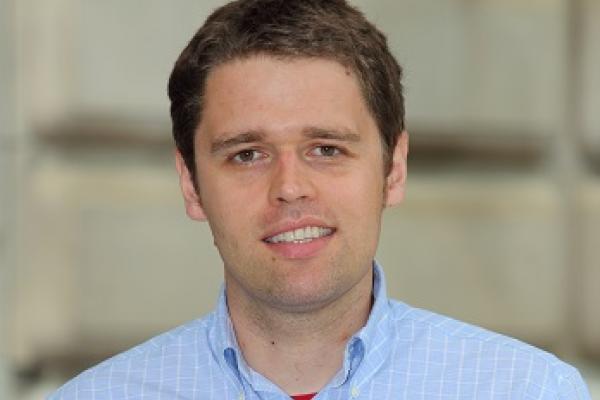 Description
If you get the chance to sit down with new political science professor, Tom Wood, there is no doubt you will leave the conversation feeling his enthusiasm for his work.  Professor Wood has started his first year at Ohio State with the honor of receiving the American Political Science Associate Best Paper Award, which is given for the best paper delivered at the previous year's APSA Annual Meeting.
Professor Wood's research focuses on American Politics.  At first glance this may sound odd since he is Australian, but he explains that what drew him to politics here in the States was the fact that politics are taught in a quantitative way.  He studied abroad at both UC Berkeley and Georgetown while he was at University and really fell in love with American politics and how open he found the political system to be. Even within the parties, there were debates that were offered to the public, which was unlike his experience with the closed Westminster system in Australia.
He worked for the Australian government in the Department of Defense for a few years, but found that his passion was still American politics and began applying to grad school.  He received his PhD from the University of Chicago and while he was there doing research, he had the opportunity to work on a presidential campaign for six months.  This gave him exposure to the day to day challenges that campaigns faced and allowed him to see the data that campaigns had available to them and ultimately how access, or lack thereof, shaped the direction the campaign would go.
This experience fueled his research on understanding campaign effects, exploiting new data and identification strategies to understand how campaigns can influence voters' attitudes, preferences and behavior. His second area of research are the unorthodox dimensions of American political attitudes, such as conspiratorial accounts of political events, and the use of magical thinking when individuals are faced with uncertainty and anxiety.
Professor Wood was drawn to Ohio State because of the excellent reputation the Department has in American Politics.  He has been thrilled to work with his fellow colleagues and has been continually impressed with how sophisticated the undergraduate and graduate students are.  He is currently teaching Voters and Elections and Political Psychology.
Please join the department in welcoming Professor Wood and stop by to introduce yourself sometime!
---